In todays blog post I´m going to show you how to build the World´s Fastest Home Lab using the fastest Hypervisor and the correct storage system. I even have proof to prove it. You´re going to be amazed about how fast this stuff is.
I´m just back from an awesome week with CTP meetings, Citrix Synergy and E2EVC. As always I stacked up my suite case with the latest and greatest geek gadgets:
The most amazing piece of hardware is the brand new Intel 750 NVMe PCIe. It´s the future of storage at an affordable price. It´s 4x faster than SATA based SSDs because it´s not limited by the SATA6 controller. By combining four lanes of PCIe 3.0 with state-of-the-art NVM Express (NVMe) interface you get truly amazing performance.
The Intel 750 is going into my Nutanix Community Edition server, but I wanted to test it first on all major hypervisors to show you how fast you can get it by spending $400.
Yeah the price is double a normal SSD, but remember that the performance is 4x and time is money! Let´s take a look at the results.
Testing Environment:
Asus PH8H77-V LE
32 GB of Memory
Intel 750 400GB
Samsung EVO 840 500GB
SanDisk Ultra Fit™ CZ43 32GB USB 3.0 Low-Profile Flash Drive
The reason why I have a normal SATA SSD in the box is that my mainboard bios does not support boot on Intel 750. So for Citrix XenServer 6.5 SP1 and Microsoft Hyper-V I installed those on SATA SSD and used the Intel 750 as Datastore. For VMware ESXi 6 however I install the hypervisor on the Flash Drive.
First let´s see how fast Intel 750 really are. I´m using AS SSD Benchmark and below are the results.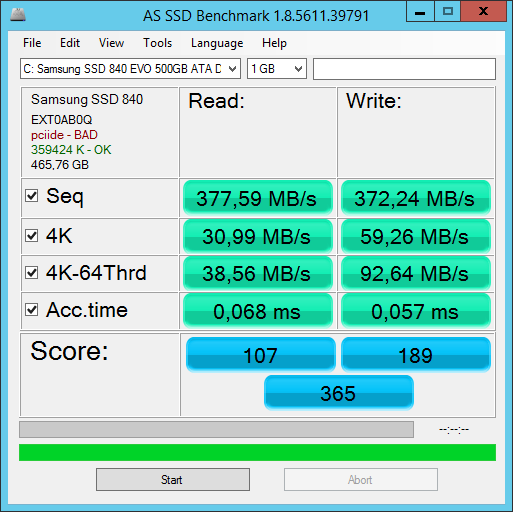 Wow, the score is almost 10x better.
All 3 systems was using my Automation Framework with the exact same config and reference image (4.1 GB WIM). No Windows Update or VM tools where installed during the tests. Here´s the results:
XenServer VM with 1 vCPU and 2GB. Deployment time 9 min & 45 sec.
Hyper-V VM G1 with 1 vCPU and 2GB. Deployment time 6 min & 30 sec.
Hyper-V VM G2 with 1 vCPU and 2GB. Deployment time 4 min & 25 sec.
ESXi VM with 1 vCPU and 2GB. Deployment time 3 min & 20 sec.
Isn´t that fantastic? 3 minutes and 20 seconds to deploy a VM on the fastest hypervisor and next generation storage out there?
Cannot wait to scrap this server and reinstall Nutanix Community Edition now with Intel 750.
Did it take me long to setup 3 Hypervisors with brand new domains and test all this? No, I probably spent a day because most parts are automated and the rest is based upon Powershell. That includes writing this blog post.