As you will hear about in my upcoming podcast Ask Eric I'm constantly rebuilding my home labs from scratch. Make sure to submit your Podcast question now to get an Amazon Gift Card.
I actually have three isolated labs running on XenServer, VMware and Hyper-V3.
Before my Automation Framework is running I need to install and configure my Active Directory, Router and Microsoft Deployment Tool servers. So too save a lots of clicks I try to do most of this stuff in Powershell. Here's my script to automatically configure DHCP with Powershell.
$

DNSDomain

=

"ctxlab.local"

$

DNSServerIP

=

"192.168.1.10"

$

DHCPServerIP

=

"192.168.1.10"

$

StartRange

=

"192.168.1.150"

$

EndRange

=

"192.168.1.200"

Install

-

WindowsFeature

-

Name

'DHCP'

–

IncludeManagementTools

cmd

.

exe

/

c

"netsh dhcp add securitygroups"

Restart

-

service

dhcpserver

Add

-

DhcpServerInDC

-

DnsName

$

Env

:

COMPUTERNAME

Set

-

ItemProperty

–

Path

registry

::

HKEY_LOCAL_MACHINE

\

SOFTWARE

\

Microsoft

\

ServerManager

\

Roles

\

12

–

Name

ConfigurationState

–

Value

2

Add

-

DhcpServerV4Scope

-

Name

"DHCP Scope"

-

StartRange

$

StartRange

-

EndRange

$

EndRange

-

SubnetMask

$

Subnet

Set

-

DhcpServerV4OptionValue

-

DnsDomain

$

DNSDomain

-

DnsServer

$

DNSServerIP

-

Router

$

Router

Set

-

DhcpServerv4Scope

-

ScopeId

$

DHCPServerIP

-

LeaseDuration

1.00

:

00

:

00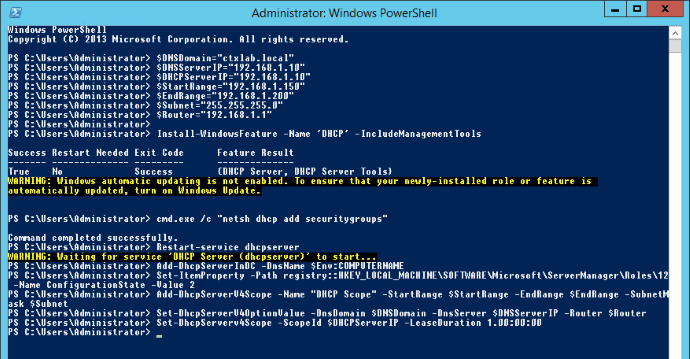 You can read more my various Powershell scripts in the following posts: